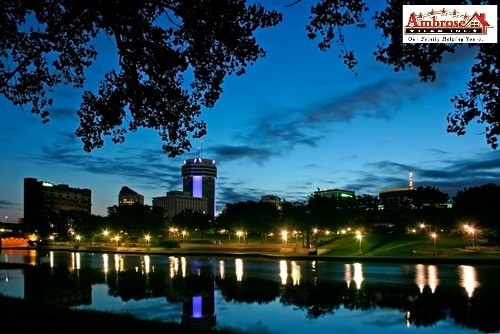 Sedgwick County, Kansas encompasses around 1009 square miles of land, and hosts a population of nearly 500,000 residents. The current population makes this county the second most populous county in Kansas. Within the county are 21 cities, 2 census designated places, 19 unincorporated places, and 7 ghost towns. Wichita is the county seat.
Sedgwick County receives about 31 inches of rain on an annual basis, and 14 inches of snow across 80 days with measurable precipitation. There are 225 sunny days per year. Summer highs are around 93 degrees, and winter lows are 20 degrees.
There are 9 airports throughout the county, and public transportation is provided by Wichita Transit.
Sedgwick County is home to 10 unified school districts and 15 colleges and universities.
Sedgwick County states its county values as accountability, commitment, equal opportunity, honesty, open communication, professionalism, and respect.
Founded on February 26, 1867, this county was originally a camping ground for two tribes of Native Americans: Osage and Wichita tribes.
Areas of interest in the county include the Sedgwick County Zoo, Old Cowtown Museum, Intrust Bank Arena, Museum of World Treasures, Exploration park and more.
One of the most celebrated events in Sedgwick County is the Sedgwick County Fair in Cheney Kansas, a highly anticipated annual event featuring "Fair's Got Talent", live music, monster trucks, demolition derby, animals, magic shows, games, barn quilts, helicopter rides, annual pedal pull for the Wild Prairie Children of Sedgwick County, and a carnival. There's fun to be had, food to eat, and memories to make at the Sedgwick County Fair.
A focal point of the county is the Sedgwick County Park. The park offers five fishing ponds, seven shelters, biking and walking trails, softball, volleyball, tennis, basketball, playgrounds, barbecue areas, and hosts several special events throughout the year including a renaissance festival and fundraising events. It's also a fantastic venue for family get-togethers.
Give Ambrose Team a call today to learn more about local neighborhoods, put your house on the market, or tour available homes for sale. You can reach Katherine at 316-807-5079, Randy at 316-312-3079, Jillian at 316-665-1324, and Brian at 316-253-6442.