Staging a house means getting the property in top-notch, ship-shape, spic-and-span condition to be shown. The goal is to inspire love at first sight, to get potential buyers engaging in daydreams. You're wooing prospects, enticing them to want to buy your house. Here are some helpful tips for staging that will get your house noticed.
Curb Appeal
It all begins with curb appeal. The outside of your house is the first impression a potential buyer has of your property. The goal is to have the buyer audibly utter, "Wow", or "Oh, that's cute", or "Oh, honey, look!" The last thing you want them to think or speak is a heavy, "Oh, it's not what I was hoping for." If they look at your house and see a project – fixer-upper tasks that could add up to costly repairs or improvements, they may decide to keep on keeping on down the road to look at other houses that are move-in ready.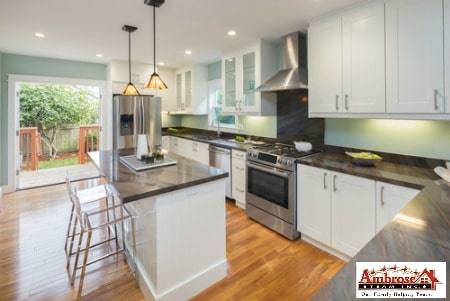 Staging the outside of the house for curb appeal means keeping the lawn and foliage well manicured. Windows should be clean. The house should be spray-washed, or painted if needed. If there's a porch, it should be charming, meaning there's no cracked wood, broken steps, and that there are a few embellishments such as potted flowers for a splash of color. Remove any toys or lawn ornaments. And don't forget the back yard or side yards, those are important, too.
Declutter Tips for Staging
With your curb appeal locked in, it's time to move to the inside of the house. It's easiest if your next step is to declutter. Declutter means that you sort, organize, and remove belongings that aren't needed between now and the time you move. Get rid of anything you won't be taking with you via donations, yard sales, or discarding unwanted items. Remove bulky pieces of furniture – over-stuffed couches or pieces that look too big for the space. Store these away if needed until moving day. Bulky furniture can make rooms look smaller than they actually are. You want to give the appeal of "spacious". Furniture should be moved away from the walls into conversational areas. Windows should be properly dressed with drapes or blinds open to allow in sunlight. Light also adds to the feeling of spacious rooms and a vibrant feel.
Depersonalizing is a difficult but necessary part of staging your home. You want the house to look like a model home, meaning the artwork and decor is pretty, but generic. Remove any personal photos, collections, books, magazines, political paraphernalia, religious statements, or anything that could make potential buyers feel like a guest in your home rather than imagining themselves occupying the space.
Clean, Repair, Replace
Clean. Clean everything. Baseboards, ceiling fans and vents, bathtubs and toilets, walls and counter-tops. Everything should look and smell clean and fresh. Cleanliness is key in selling a property. If cleaning isn't your forte, consider outsourcing this job to a professional cleaning company.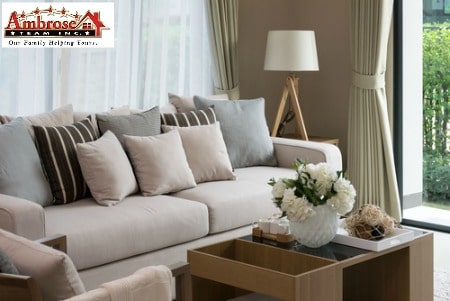 Repair and replace. If carpet can't be cleaned via shampoo, or if it's torn or stained, replace it. You'll get a higher return on your investment from clean and move-in ready than you will by including a carpet allowance. If walls are dingy, paint them. If appliances are old, can't be clean, or are beyond repair, replace them. If anything is broken, fix it ahead of time. Not only are broken items a turn off to potential buyers, but they could delay the closing process if inspections reveal problematic areas.
Other Helpful Staging Tips
Be security conscious. Remove any valuables, weapons, or items that may be stolen or dangerous. It's unlikely you'd actually have to deal with such situations, but it's best to be proactive instead of reactive.
Consider having baked goods or sweet-scented candles on the counter during showings. Also consider live plants indoors. These items make a house feel warm, inviting, and livable without personalization.
Another often over-looked part of staging is your presence, or preferably, your absence during showings. It can be uncomfortable for you as the seller and for potential buyers if you're home during showings. It's also best if you make arrangements for any pets as animals may be deterrents to potential buyers.
Staging your home is the most important thing you can do to attract serious buyers. Make it pretty. Clean it up. Show it at its best so you get the highest return on your investment.
Give Ambrose Team a call today to learn more about local neighborhoods, put your house on the market, or tour available homes for sale. You can reach Katherine at 316-807-5079, Randy at 316-312-3079, and Brian at 316-253-6442.