HOLIDAY TABLES | THE WICHITA CENTER FOR THE ARTS
Katherine & Jillian Ambrose enjoyed a mother/daughter visit to see the Holiday Tables, a popular seasonal event in Wichita. It was fun discussing tables and voting on favorites. The theme was "Servings of Art." And it delivered. Jillian loved an entry that featured an antique bed rather than a table. The bed was transformed into a garden.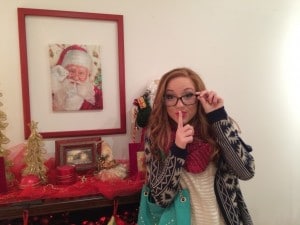 Particularly impressive to Katherine was the "Disruptive Women" entry, by The Greteman Group, highlighting women that have made an impact in history.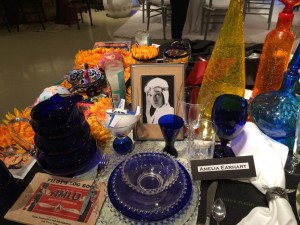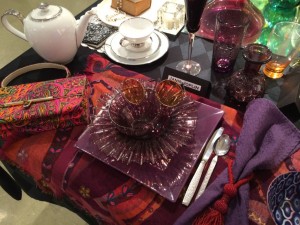 Designing Women hosted Holiday Tables November 6-8 at The Wichita Center for the Arts. 9112 E Central.
"Holiday Tables is the much anticipated, annual fundraiser for The Wichita Center for the Arts. Each year, the galleries of the Wichita Center for the Arts are transformed into a decorating idea-fest with exquisite tablescapes for the upcoming season. Dining tables of all shapes and sizes are decorated by individuals, non-profit organizations, and businesses, showcasing home entertaining ideas. Guests can also shop in the Boutique for holiday items from the Traditions Home store and purchase home-made baked items. And don't miss the delicious luncheon created by some of Wichita's most creative culinary artists."
"About Designing Women – The Designing Women of The Wichita Center for the Arts is a volunteer organization whose mission is to promote and advance the welfare of The Wichita Center for the Arts (WCFTA) by providing financial support and services to the performing and visual arts programs offered by the WCFTA.
About The Wichita Center for the Arts -Founded in 1920, The Wichita Center for the Arts (formerly the Wichita Art Association) (WCFTA) is Wichita's oldest and most comprehensive visual and performing arts organization and the region's only arts center that includes a school. It is primarily a privately funded organization, generating most of its revenues through gifts, endowment earnings, tuition, and ticket sales. The mission of the WCFTA is to improve understanding about the visual and performing arts among citizens in the region by providing programs which develop the creative process, expand aesthetic appreciation, and bring new meaning and understanding to the potential of being human."
(Organizational details credit: http://wichitaarts.com/2014-holiday-tables-wichita-center-arts/)
Congratulations to this year's Holiday Tables Winners:
1st Place: "Christmas at Downton" by Janice Zerbe
2nd Place: "Frozen Uniqueness: Fitting Together While No Two Servants are the Same" by Event Elements: Brandy & Jessee Zogleman
3rd Place: "All That Glitters" by Melva Kinkel & Cheryl Arthur
Search for homes nearby, in 67206, from $200,000